Where We Perform
The Texas Radio Theatre Company performs on a regular schedule at live venues throughout the Dallas / Fort Worth area of Texas.
Throughout our history, our work has been broadcast on several radio stations, streamed on line and has been featured on various podcasts. Recently, we've made several plays available on http://www.prx.org/
If you live in the Dallas / Fort Worth area, we invite you to attend our live performances (many of which we only ask a donation).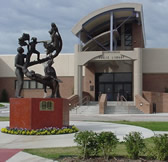 We have recently partnered with Schlock Audio Theatre, and although we do not perform those in front of a studio audience - you can hear them on line by visiting their website: http://www.schlockaudio.com/
The Texas Radio Theatre Company is always actively seeking new performance venues.
If you would like to suggest a venue that you think would benefit from our unique brand of live entertainment, or if you know of a radio station that would like to carry our original content, please contact us and we will pursue the opportunities that you might recommend.